Name: Adam Green most just call his Adam
Race: Neko
Gender: male
Age: 18
Appearance: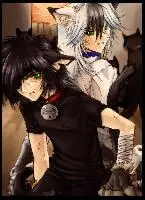 he's the black haired one
History: He grew up an orphan, living on the streets. When he was about 12 he joined a street-gang and started a life of getting in trouble and hate, but as he got older (around 17) he escaped the gang and lived alone in an abandond church where he met his best friend.
Parents: None both dead
Small Description: He likes to climb, and get in fights. He dis-likes sleeping, preppy girls, and girls (not ment to be sexist!) He's quite and secretive, he tends to flip out on people though he tries not to. He's gay, lol just saying.